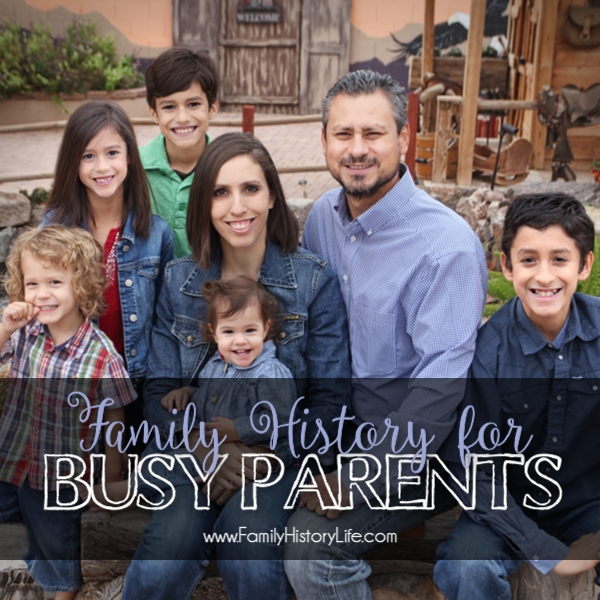 Finding time to have to myself seems like such a luxury, with 5 children ages 18 months to 13 years old running around demanding my attention. If I have a moment alone, usually that only happens when their eyes are closed for the night, I consider what I do very carefully. Now, don't get me wrong. I love a good book and you will find my nose stuck in a book in the evening many nights, but there is also something very important to me that I choose to spend my time working on and that is… family history.
Don't sigh… I know how it goes. If you haven't caught the family history bug, you are probably about to tune out. Just hang in there for a minute and I will try and get you to switch gears and think of your time spent doing family history as the highlight of your day instead of, "to be done in another season of life".
Now, I know we can't squeeze out any more time from 24 hours, believe me I try, but the fact of the matter is that we have a limited amount of time to accomplish all that we have on our plate. Believe me, I know how full that plate can be. Years ago while living in Pennsylvania, I was introduced to family history.
At the time, I only had 2 children, yet they were young and demanded my time. I just couldn't figure out how to balance everything in life especially this new love for family history. I also ran a professional photography business that kept me busy as well. I remember one night thinking about how I can make it happen when I would stay up all night processing pictures, working on marketing and all the other demands of running my own business.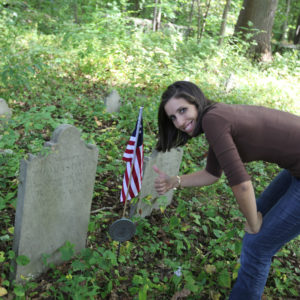 I decided to take a leap of faith and put off working at night and instead work on my family history. A miracle began to happen. My business did better than ever, yet I worked on it less and I had a joy and peace unlike anything else I had experienced up to that point. I also unlocked doors into our family history that were nothing short of a miracle; like how we moved from Los Angeles to the rural town of Pottstown, Pennsylvania where my ancestors settled, not knowing that beforehand.
I learned a valuable lesson in those early years of being a mother. Family History didn't take me away from my responsibilities of being a mother, wife and business owner, it helped balance and bring peace to my life. An old adage comes to my mind, "Never put off until tomorrow what you can do today."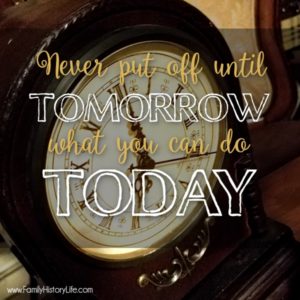 Here are a few tips to help you take a leap of faith and carve out a few minutes each week to work on your family history.
1. Turn off your phone for 30 minutes. – This is probably one of the easiest ways to make time for family history. We are all so connected with our phones that we don't realize how much of it we use on a daily basis. I downloaded an app called "Quality Time" and it has been an eye opening experience. The app basically will monitor how much time you are on your phone and what apps you are using. The best part of the app is the ability to put it on "Family Time" where you can't use your phone at all. It has already made a huge difference in how productive I am during the day.
2. Give up one of your television shows for the week. – I know that might be asking a lot, but our family stopped watching tv over 10 years ago and wow what a difference. I am not saying you need to cold turkey it like us, but cutting back a 30 minute block each week to focus on family history will bring you huge blessings in the long run.
3. Include your Children – Nothing tells your children you love them more than spending time with them. It really doesn't really matter what you might be doing with your children, but your undivided attention to them is priceless to them and will become for you too. This year we started to date our children! We have it divided up on our calendar for the whole year. We each take one of the kids on a date every Saturday so the kids get a date with mom by themselves and then dad each month. The children look forward to it all week. During a few dates, you can sit down with your child and talk about family history, have them ask you questions or visit a family member and record their stories. Your kids will love to be able to use your phone to capture videos on it or use the awesome FamilySearch Memories App.
These are just a few tips to help you get started on family history. We just launched this new website and have short step-by-step videos that you can watch for free. If you know how to log in to familysearch.org, start with Lesson 3. It is 18 minutes long and your fun "homework" will take about 12 minutes to 30 minutes this week; you can start your own family history journey or get back to it.
We will be posting more videos each week, so make sure you subscribe to our YouTube channel. Here's an introduction about this website and how it can help you as a busy parent to accomplish your own family history.
I know there are many blessings that come when we understand who came before us, as I experienced mighty miracles while filming a video about my Great Uncle who was a Korean war hero. I have gained an even greater love for this brave and courageous man. (Watch the video here.)
I hope that whatever you decide to do, that you don't wait for another "season" in life. Gordon B. Hinckley once said, "All of us need to be reminded of the past. It is from history that we gain knowledge which can save us from repeating mistakes on which we can build for the future."
Read more advise on this topic of Busy Parents and Family History from these fantastic bloggers below.