Take the Quarter Challenge
What is unique about a quarter? If it is a coin, it has two distinct sides that are different yet they represent the same value, 25 cents. What about a quarter as a measurement? It represents 1/4th of a whole. To take the Quarter Challenge, you need to understand the importance of both sides of a coin and a fourth of the year.
Just like a "quarter" has two sides, so does family history work. President Howard W. Hunter said, "those who engage in family history research and then perform the temple ordinance work…will know the additional joy of receiving both halves of the blessing." (A Temple-Motivated People)
In order to receive blessings and joy, we need to act on the promised blessings given by a prophet of God. Here is a simple way to help you get started as you bless the lives of both the living, the dead and yourself.
The Details
Grab a quarter and take a look at the front side. What do you see? It says on the left "Liberty" and on the right "in God we trust." These two sayings on the US quarter are vital pieces not only to the value of money but to our family history work.
In God We Trust
President Thomas S. Monson once said that the key to family history "is the key of faith. In this work no lock will open without it." (The Key of Faith) As we put our trust in God with even just a particle of faith, great things can be accomplished. The sacred work of searching and finding our ancestors can be achieved as well as the accompanied temple work.
Liberty
The power of freedom and liberty is an eternal principle that started long before we were born. You might say it never really had a beginning. It is the basis of our Father in Heaven's plan for His children, the freedom to choose. As we find our ancestors, many of them did not have the opportunity to accept Jesus Christ and be baptized into the church.
They are in a place called Spirit Prison where they wait to hear about the gospel of Jesus Christ. If they use their liberty to choose Christ and the ordinances of baptism, their liberty to make that choice is limited. Without a physical body, they are unable to be baptized. They sit at the door and wait. Who are the waiting for? You and I, their descendants. They cannot be made free without us finding them and performing temple work in their behalf. Our goal is to liberate them from spirit prison.
E Pluribus Unum
Did you ever notice the Latin phrase on the backside of a quarter? In English it means "out of many, one." In 1776 this statement was used as the seal for the United States and is enscribed on the back of all US coins. Just as it represented a gathering of states into one union, so do our families gather together in holy temples to become one eternal family with our Heavenly Father at the head. As we search out our ancestors and take their names to the temple we can "e pluribus unum" with them in an unbreakable chain.
The Challenge
The first challenge is to make the decision to what to learn about and find your ancestors. The choice is yours to make. Once you have made your decision, sign up for our 12 week online comprehensive course to help you find your treasured ancestors. Think of this course as your own personal family history consultant in your home anytime you want to "jump in and rescue your ancestors." Details on how to sign up for the course can be found here.
Need a little more motivation? Grab your family members, friends, co-workers, youth group, ward and stake and climb aboard together to get motivated and start your own Quarter Challenge to inspire and motivate each other. Let's break up the year into four quarters. If you are just visiting us right now and it isn't the beginning of the year, don't worry, just adjust the calendar a bit to fit your timeline. Here is the Quarter Challenge Calendar.
1st Quarter Goal (January to March) Challenge: Stories and Pictures
2nd Quarter Goal (April to June) Challenge: Index Records
3rd Quarter Goal (July to September) Challenge: Attach and Find Documents
4th Quarter Goal (October to December) Challenge: Find a Family
Each quarter focus on that particular challenge. We will share insights into each of the quarter challenges on our blog, so make sure you sign up for our newsletter so you don't miss any tips and tricks.
Temple Bank
To keep you motivated and working on family history, we are going to take it a step further and not only help our ancestors and bless our own lives through this redeeming work, but we are going to help others in need as well.
Have you ever heard of the "Temple Patron Fund?" It was announced that this fund would "provide financial assistance to those who otherwise could not afford the travel expenses associated with attending a temple and participating in the sacred blessings available only in the House of the Lord… Having the means to attend the temple—if only once in a lifetime—brings hope and joy to countless saints. Living prohibitive distances from the nearest temple need not prevent worthy members and families from receiving the eternal blessings of salvation that can be received only in the temple."
How It Works
Every time you participate in the quarter challenge by adding a photo, indexing a record, attaching a record or finding an ancestor, add a quarter or any coin to a bank. You can also print, cut and use the paper coins below. As you continue to work on your family history, you will add money to your "temple bank" and "save" a family on both sides of the veil.
As you continue to "save" your ancestors and "coins" in your bank, you will discover how quickly we can help hasten the work of salvation through family history work.
The Gift
Christmas is a season of giving, but I am learning that the more important gifts come from time and service. Material goods fade and eventually find themselves in landfills around the world, but what if we could give something of value, lasting value that can be taken with us after we leave this earth?
The gift of temple ordinance work for both the living and the dead is the only way we can return with our heavenly parents and live forever as a family. By the end of the year, your "temple bank" should be pretty full. Take that money or convert your paper coins to real money and donate it to the Temple Patron Assistance Fund and give the gift of temple ordinances to a family in need while gifting those same blessings to an ancestor. That's a total win-win in my book!
Want to take it a step further? Put your finished temple cards in a box, wrap them up and tuck them under the Christmas tree. On Christmas morning, open the box and reflect upon knowing that you have been a "savior on Mount Zion" this year in rescuing your ancestors for Christmas!
Let's Get Started!
Now, Are You Ready to "TAKE THE QUARTER CHALLENGE?" Invite your friends and family to join you as we fulfill our obligation to serve our brothers and sisters on both sides of the veil. Join our "Quarter Challenge Facebook Group" today. Climb aboard the "Family History Life" ship as we are committed to help you along this great adventure!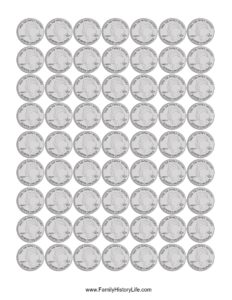 Click on the image below to download a pdf file of the flyer.